Posted in Reviews on February 8, 2021

Growing microgreens is the fastest, most comprehensible way to get your bow on daily servings of vegetables and herbs, even for the laziest of vegetarians. They are perfect as a garnish on a fresh-baked bagel, delicious in salads, and satisfying as a light meal by themselves. They also make great plant food for your balcony's houseplants! But if you want to eat gorgeous and nutritious vegetables, you'll need to choose the best possible soil for Read More »
Posted in Reviews on January 11, 2021

Last time we reviewed a few sprouting jars that you can use to grow you sprouts - a nice microgreen alternative many people also like growing. In this post we'll focus on the Best Stackable Stainless Steel Sprouter Kit. This time we are taking a bit more critical approach. As an Amazon Associate we earn from qualifying purchases. Searching 'Stackable Stainless Steel Sprouter Kits' on Amazon will return results with very similar results. After browsing Read More »
Posted in Reviews on January 4, 2021

Sprouting Jars are an alternative medium for growing sprouts for starters. They are often offered as bundles that include almost everything to get started like the jars themselves, stainless steel or plastic sprouting lids, drip trays and stands. All this makes it a perfect gift as well. We've picked 12 of the best sprouting jars for you to compare and the one that fits you most. As an Amazon Associate we earn from qualifying purchases. Read More »
Posted in Reviews on December 21, 2020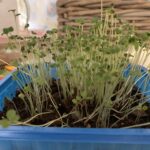 In this blog post we are reviewing seeds from Premier Seeds Direct - a UK based company that's been around for the past 25 years. As an Amazon Associate we earn from qualifying purchases. For US based seed suppliers please check here: Back to Premier Seeds Direct: We chose to start with their: Sprouting Radish - Rambo Their bulk Organic CRESS Curled/Common Broccoli Organic Sprouting Seeds Organic Sprouting White Mustard We used some plain containers Read More »
Posted in Reviews on December 15, 2020

If you have been reading our blog for a while and especially the success stories, you may have already noticed that most farmers start growing just a few kinds of microgreens and of course radish is one of the top ones. The radish microgreens are ready for harvesting within 10 days and also come with their bright colors and flavor. Let's take a look at a few reputable brand names and the marketplaces they are Read More »
Posted in Reviews on December 7, 2020

Have you considered building or buying a greenhouse for your gardening or farming practices? Gardening is, in all honesty, a rather complex and labor-intensive process that takes a lot of time and energy. At the same time, it can also require having equipment that can help save a lot of your precious time. For instance, you might want to buy yourself a greenhouse not only because you love gardening but for the fact that you want to make sure that your plants, fruits, and vegetables can grow properly. And if you're considering buying one, then you should consider the following best greenhouses, for they are all designed to provide you with quality and excellent functionality.
Posted in Reviews on November 30, 2020

There is an increasing interest among consumers in organic fresh produce. We can see this in the ever-growing number of vendors that are offering healthy and attractive produce at farmers' markets across the country. In fact, we can even see it on our supermarket shelves, where growers are now offering consumers more and more choice when it comes to the products that they are offered.
Posted in Reviews on November 10, 2020

There are different marketplaces offering microgreen trays for professional farmers looking to offer the highest quality possible to their clients. At the same time there's a growing number of people just curious to try out growing microgreens on their own. They need a basic tray that's durable enough and safe for use. Amazon offers plenty of choice and today's post will mention some of the best microgreen trays available for sale. As an Amazon Associate Read More »
Posted in Reviews on November 2, 2020

Wheatgrass is undoubtedly one of the most widespread microgreens. It's defined as one of nature's wonder foods being a natural healer and containing a lot of chlorophyll. When juicing wheatgrass, it's extremely important to have the right juicer. The device should masticate the grass rather than making it centrifugal. This is how you drastically reduce the amount of oxygen and protect the enzymes. In this post you'll find juicers categorized by price brackets that should Read More »
Posted in Reviews on October 5, 2020

This type of post was long missing on the Microgreenology blog. Choosing your knife wisely can save you a ton of issues. The right knife though can be different depending on the stage you are. As an Amazon Associate we earn from qualifying purchases.