Cabbage Microgreen Seeds: What's Available on the Market Today
Posted in Reviews on March 13, 2021

There are multiple options for purchasing cabbage microgreen seeds. What comes on top of mind first though is:
buying from a local supplier
purchasing from a retailer like Amazon
As an Amazon Associate we earn from qualifying purchases.
Local Suppliers vs Amazon and other nationwide suppliers
There's no good and bad. If you live in a bigger city you'll be most likely surrounded by at least 3 local suppliers to choose from. Review them, do a test purchase and make your own conclusions.
If you reside a smaller town though you might have a limited choice of local suppliers and purchasing online from a nationwide supplier could be the better alternative.
Just Google it: if you see more results on Google My Business, this is a good sign that there are a lot of local suppliers. If you don't, no worries, just see what's available and pick the best option possible.
Best Nationwide Suppliers of Cabbage Microgreens Seeds
We'll skip reviewing local suppliers, but you shouldn't. Find out who you could trust locally first.
Amazon
There are about 200 results popping up for cabbage microgreens seeds.
You may cross on some that are not currently available.
We had to review 10 listings before we found one offering 10 Heirloom Varieties with 4,900+ Seeds.
This seed assortment is sold by Ohio Heirloom Seeds Store and contains not mixed individually packaged by variety seeds like basil, broccoli and among all of them we get 200 seeds Red Cabbage - Mammoth - one of the most preferred kind of microgreens cabbage.
One more kind of cabbage by 'Ohio Heirloom' currently available for sale is their Red Russian Kale.
Truth is that even though we saw 200 results there are only a few listings selling cabbage microgreens seeds.
This is why it might be a smart idea checking other nationwide retail companies.
True Leaf Market
This is not the first time we've been mentioning and recommending True Leaf Market.
Here's a link to their most established and recommended kind of cabbage - the Red Acre Cabbage Microgreens Seeds.
You can choose 1 oz, 4 oz, 1 lb, 5 lb or even 25 lb.
Go through the whole listing. It's a real pleasure looking at how easy to read they made it. It contains not only a detailed information about this variety, but also:
info about blackout time, germination time, preferred growing medium and many more;
growing directions;
facts like this sharing an animal study about the benefits of the red kind of cabbage microgreens.
Johny's Selected Seeds
Talking about nationwide retailers, we can't skip mentioning Johny's Selected Seeds and their Red Cabbage Microgreen Seed listing.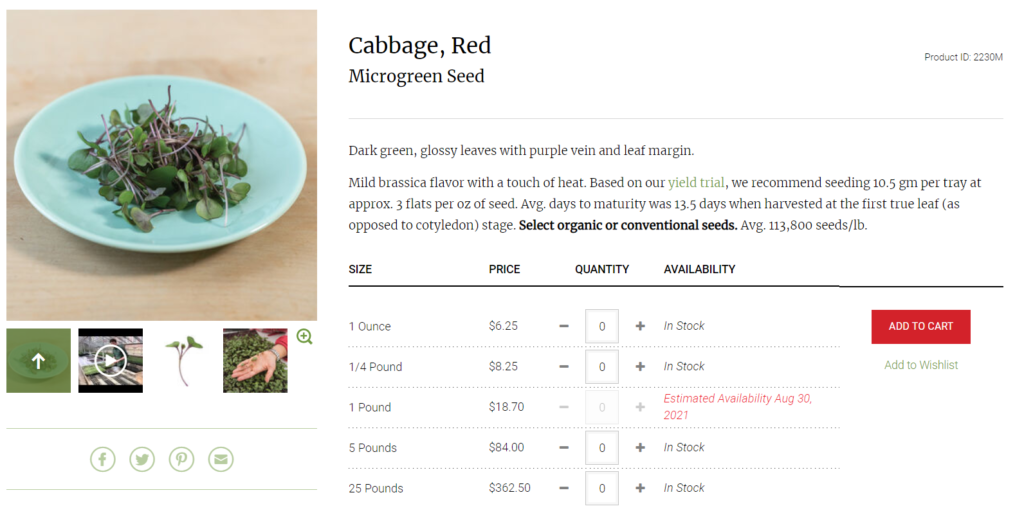 This is a proven supplier with a lot of happy customers and this is why it gets recommended on Microgreenology.
What other nationwide retailers you can recommend for purchasing cabbage microgreen seeds?
Don't be shy, put your most favorite listing in the comments below even though it's a local supplier. We are happy to support local suppliers too and if we get enough suggestions we'll consider writing a new blog post on the subject.