Best Stackable Stainless Steel Sprouter Kit
Posted in Reviews on January 11, 2021

Last time we reviewed a few sprouting jars that you can use to grow you sprouts - a nice microgreen alternative many people also like growing. In this post we'll focus on the Best Stackable Stainless Steel Sprouter Kit.
This time we are taking a bit more critical approach. As an Amazon Associate we earn from qualifying purchases.
Searching 'Stackable Stainless Steel Sprouter Kits' on Amazon will return results with very similar results.
After browsing through different listings, we decided it's worth reviewing the following model:
Unlike the glass sprouting jar models these sprouting kits a.k.a. mesh sprouting trays are durable and sturdy devices made of food grade 304 Stainless Steel.
The stainless steel is rust-resistant and non-toxic making a really safe environment for your food.
Stackable Design
What's cool about it is that all trays stack in each other save up space and look really stylish.
All trays are 8-inch wide. The whole kit contains:
1 base sprouting tray with fine mesh for drainage and air circulation
2 sprouting mesh trays for sprouting multiple types of seeds at once
1 cover for warmth and moisture preservation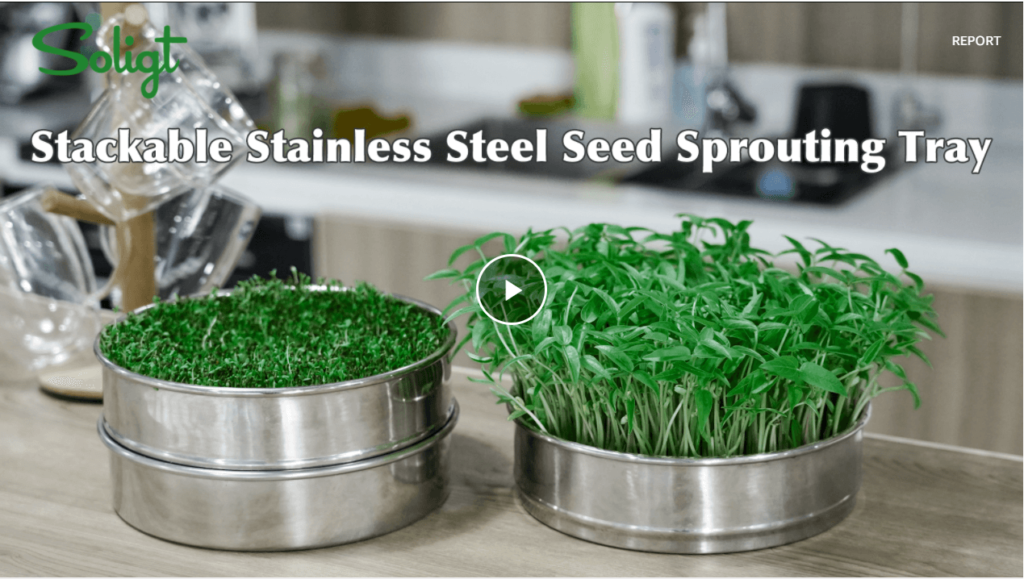 Easy Rinsing & Drainage
As you may have already noticed in the video above, the fine mesh design makes it really easy to rinse and drain your seeds.
The smaller holes prevent the seeds from sticking and water passes easily through. Same fact for seeds is valid even for plants like alfalfa, broccoli, beans and others that are usually ones with very small seeds.
Growing Different Seeds at the Same Time
Here's a great infographic by SOLIGT Store showing how you can grow different seeds at the same time:
Nutrient Dense Recipes to make with your sprouts
There's plenty of choice when it comes to using the sprouts in your daily meal. Notice that this type of food is not strictly vegan or vegetarian.

Here's a list with Super Simple Meal ideas that involves different types of sprouts by @eatmorespouts.
A Great Way to Grow Wheatgrass for Your Cat
A bit more rare application of sprouting kits like this one by SOLIGT Store is using it for growing wheatgrass for your cat or cats.
A Great Gift for Home Sprouting Lovers
Home sprouting enthusiasts are just one step away from becoming microgreen lovers as well. That's why these growing kits are great gifts for anyone interested in growing sprouts at home.
As you can see in the picture above, the 2-tiered stacked kit by Soligt is 6.2" tall and 8.5" wide. It has practical and compact sizing and a cool looking package.
Check availability for the model described in this blog post
If by any chance it's currently out of stock you can check for alternatives from this link.
In Conclusion
We can conclude that the stainless steel sprouting kits with stackable mesh trays are a much more solid way to grow sprouts compared with the sprouting jars we reviewed in the last blog post.
Both offer an affordable way to enter the world of home sprouting.
Related Blog Posts: