Authentic Holiday Gift Ideas for Microgreens Farmers & Their Friends - Part II
Posted in Reviews on September 28, 2020

In the first part here we reviewed a few gifts that can be gifted to farmers and their family. This time we'll flip it and suggest gifts to surprise your friends if you are a microgreen farmer. As an Amazon Associate we earn from qualifying purchases.
Microgreens Gift Sets
There are so many various options and of course farmers can craft a set themselves too.
They are also known as microgreens growing kits.
Organic Microgreens Growing Kit
This is a great looking growing kit sold by MicrogreenPros on Etsy.
It has everything people will need to be successful growing their own nutritious Microgreens from the convenience of their homes or offices.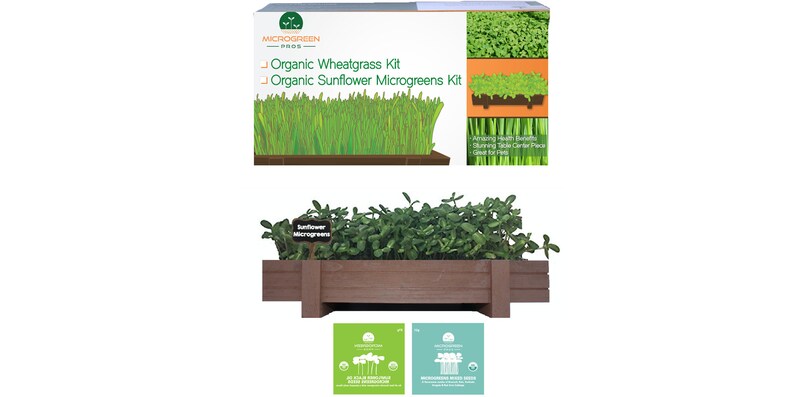 Here's what's included in the kit:
BEAUTIFUL WOODEN PLANTER included because life is too short to grow Microgreens in black plastic trays.
Kit also includes fitted waterproof liner, 2 lots of fiber soil, and a packet each of organic Sunflower Black Oil Microgreen Seeds
Mixed Microgreens Seeds – enough for 2 crops, spray bottle and complete easy to follow instructions.
DIY Growing Kits by Philly Microgreens
These microgreens DIY Grow Kits were developed by Philly Microgreens founder Casey Tabor.
People based in select areas in Philadelphia with minimum purchase of $15 can also enjoy a free delivery. Find out more here.
Complete Sprouting Kit by Handy Pantry
While not a classical microgreens growing kit, this sprouting kit by Handy Pantry could be a soft introduction to someone who's brand new to growing edible plats at home.
What's cool about it is that it includes printed instruction booklet among what would you typically expect from such a bundle. They state it comes with a lifetime replacement warranty which is nice as well.
Stainless Steel Seed Sprouting Tray
Beautiful trays can be a nice add on to any DIY grow kit, especially if you are looking for something that looks really stunning.
A really cool tray is the stainless steel seed sprouting tray by Natural Roots.
It's know for it's great germination rate and it makes everything really neat & clean. Many people found it as a nice replacement of the Mason jars as it allows a greater surface to air ratio than the jars themselves.
3 Piece Stackable Sprout Growing Kit by Grow Your Pantry
This is a more advanced sprout growing kit made for all seeds and legumes.
It's a mini sprouting system which is durable, natural and made of food-grade 304 polished stainless steel, meaning it's highly resistant to rust and corrosion.
It comes with Broccoli and Alfalfa sprout seeds.
The kit has a 3-piece sprouting tray, a sticker and pen set, that will help you to track the seed sprouts inside.
Have you tested a cool growing kit or a fancy looking seed sprouting tray yourself? Feel free to share your favorites in the comments below.
Looking to see how others started their journey as microgreen farmers? Check out Success Stories feed to find our inspirations interviews. Some people started their farms in early 2020 and their persistency helped them establish their brand name really quickly.
One Response to "Authentic Holiday Gift Ideas for Microgreens Farmers & Their Friends - Part II"