Cool Microgreen Farms You Can Purchase From if Based in San Diego
Posted in Success Stories on August 31, 2020
Tags: San Diego
In our last post we put the accent on a couple of rare microgreen farms you can discover in Florida. Today we're shifting our focus to California to see how are the farmers doing there.
For the time we are actively involved developing Microgreenology the farms we have been in touch with in California tend to mostly follow the small scale farms model - run by families or a few friends that unite efforts and start serving the local markets with a limited choice of well picked veggies.
Local Leaf Microgreens' Simple Farm Set Up Serving The Local Community in San Diego
It was the end of 2019 when Albert, David and Mike launched their San Diego based microgreen farm to serve the local community.
They're focusing on just 5 varieties of microgreens - Wasabi, Broccoli, Wheatgrass, Pea and Sunflower and Spring mix.
The founders' persistence on attending farmers' markets regularly helped the farm to establish a good reputation among customers for a relatively short period of time.
Take a look at their stunning shots on Instagram and feel the energy these guys have to serve the local community.
Their future goal is to provide free nutritional classes to impoverished communities. The guys are taking nominations for those needy families on their Instagram at profile (@localleaf_sd) - they are giving back to a different family each week in the San Diego area.
If you want to learn more about Local Leaf Microgreens you can check this blog post published in April 2020 featuring the farm.
Scintilla Farm and Their Unique Approach to Growing Greens
Scintilla Farm is one of the units in California that chose growing their greens under a greenhouse.
What makes them unique is that they're using their own super soil mix.
And while Local Lead Microgreens's main sales channel are farmers markets, the founders of Scintilla Farm started their operations by serving upscale restaurants in the greater San Diego area.
The unfortunate events caused by Covid-19 though forced them make a pivot. Weekly or bi-weekly local deliveries soon became their new main sales channel.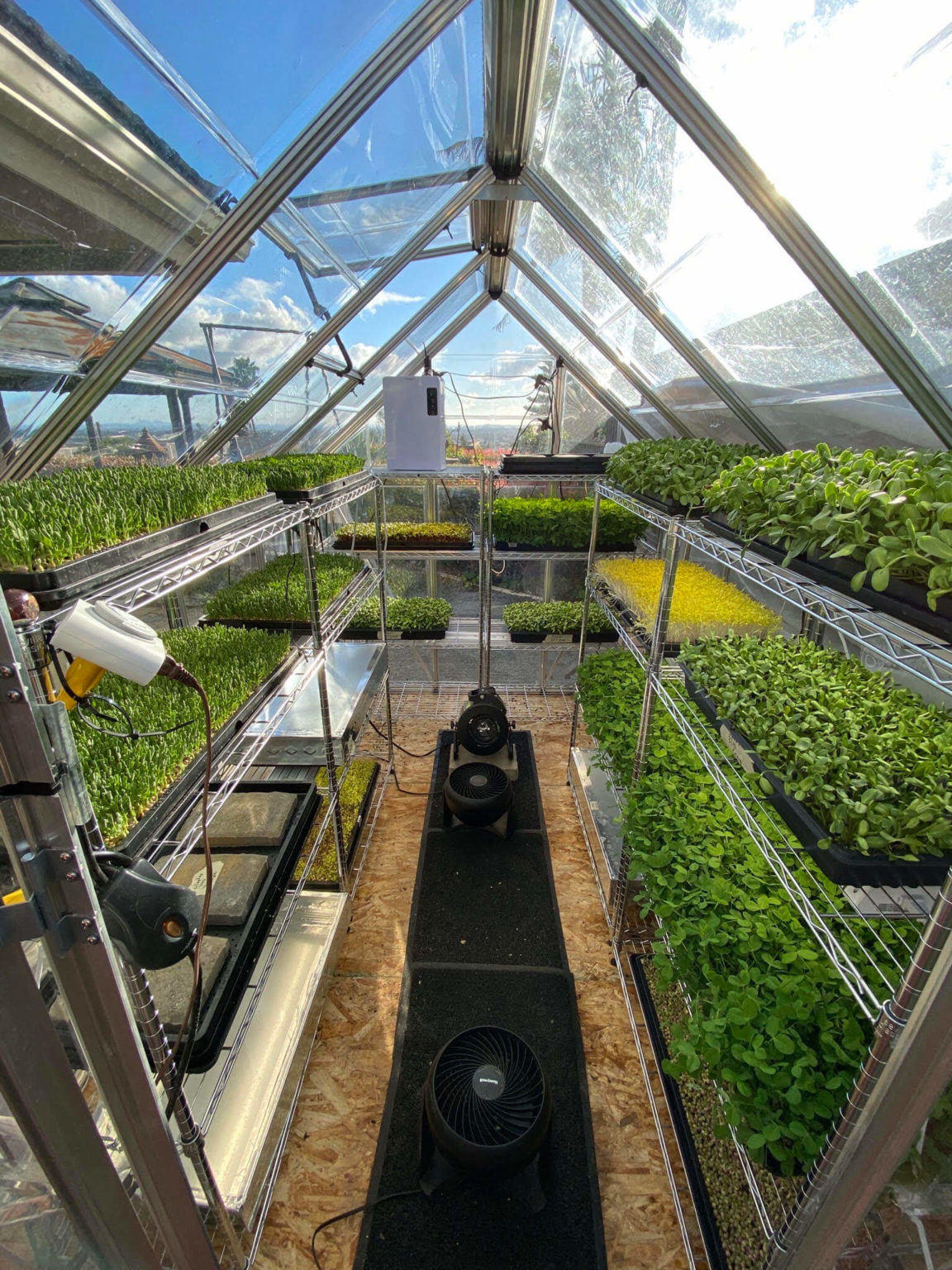 According to their own research, doing local deliveries is the best way to develop your farm nowadays as people are looking for ways not to go out from their homes.
They grow about 8 different types of greens:
Radish microgreens
Sunflower shoots
Pea Tendrils
Nasturtium
Micro Cilantro
Micro Basil
Micro Arugula
Amaranth
The soil mix and the way they collect the greens during the harvest day form some of their main advantages.
You can learn some of their secrets here.
Using social media marketing is something that brings them enough attention and traffic. It really helps them position themselves in front of their customers online and this is how they are able to get orders from new clients regularly.
Looking to start your own farm?
Unlike many other industries, the majority of the farmers growing microgreens are friendly and willing to share their experience. If you are in doubt where to start from you can always outreach and ask for help.
Another alternative would be joining a Facebook community.
A good and supportive community we recommend to everyone is Nate Dodson's Growing and Selling Microgreens. As of today there are almost 23 thousands members and it keeps growing.