Posted in News on March 6, 2021
Tags: reactgreen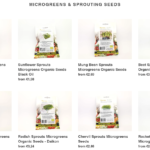 Slovenian farm ReactGreen that was featured on Microgreenology last year launched their own online store.
The store offers a balanced variety of microgreens seeds and edible flowers as well as essential equipment like trays, pots and organic soil.
Find out more about their unique offerings in today's blog post.