Devyn Rothbrust Sharing The Inspiring Story of Amorette Farms: A Vertical Farm Based in Beloit, Ohio
Posted in Success Stories on May 15, 2020
Tags: Beloit, Ohio
This time I had the pleasure of interviewing with Amorette Farms's founder, Devyn Rothbrust. He was kind enough to share the exciting story of Amorette Farms with our audience of microgreens farmers, fans and consumers.
So far Devyn is probably the only farmer featured on Microgreenology who actually studied Horticulture and got a Bachelor degree for that.
If you end up having a question, leave a comment and I'll make sure Devyn gets back with an answer.
What's The Name of Your Farm and where are you based?
I run Amorette Farms and we are based out of Beloit, Ohio.
What's the story behind Amorette Farms?
I earned my bachelor's degree in Horticulture from Kent State University, and studying greenhouses and hydroponics was something I really found interesting.
I first was introduced to vertical farming while working as a senior researcher for a company in the horticulture industry, where I did a lot of work on hydroponic production.
After a few years I decided to pursue other career interests and began my first vertical farm growing microgreens.
I started out selling at some local farmers markets, not so much for the sales, but to get my name out there, teach people about microgreens, hydroponics, and eating a healthy diet.
I used those face to face moments to build relationships and to show them how my product can help them. Social media has also played a huge role in getting my business known around the community. At the local farmers markets I was simply referred to as "The Microgreen Guy"!
I also went to local restaurants where I believed my products could be used. My strategy for gaining those sales was simple face to face meeting. I went in, brought some samples, and returned a few days later to talk with the chefs and create custom orders to meet their needs.
What is the most exciting story you've experienced while running the farm?
I would say that for me, the most exciting thing has been seeing my microgreens in social media posts by my customers. It makes all the long hours and work worthwhile when you see these beautiful plants being used in crazy imaginative ways on dishes people create.
What types of microgreens and other produce are you currently growing?
Alfalfa
Amaranth
Arugula
Broccoli
Beets Bulls Blood
Corn Shoots
Cress
Cilantro
Dwarf Grey Sugar Pea
Mild Variety (Mizuna, cabbage, kale, kohlrabi)
Mustard Garnet Giant
Radish Daikon
Radish Red Rambo
Wheat Grass (Hard red winter wheat)
What makes your produce different?
What I grow isn't all that different from growers around the country and around the world. But locally, it is a very different product. I offer greens not easily available here.
Another way my produce is different, is the way I grow. Indoor vertical farming is a new idea for the local communities. The people I get to talk to are fascinated by the way it's grown, and I believe it's a selling point.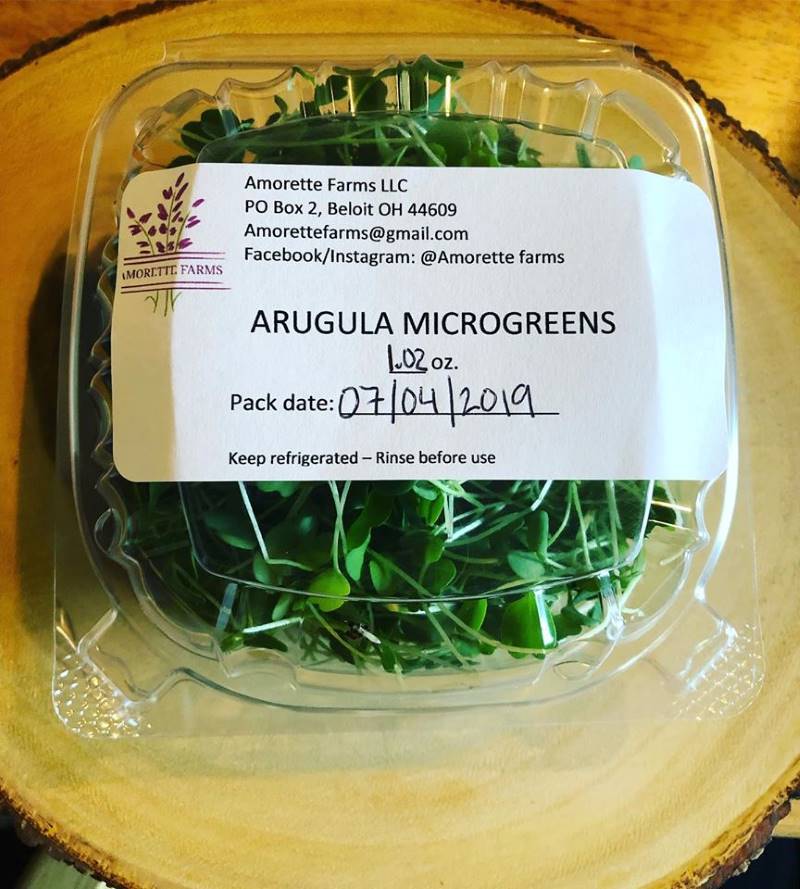 Being able to offer clean, fresh produce, year-round in Northeast Ohio is different from most local farmers.
What kind of clients do you currently serve?
I sell direct to consumer through farmers markets or private orders as well as wholesale to restaurants.
I serve Northeast Ohio over to Eastern Pennsylvania and everywhere in between.
One of our guarantees is delivery within 24 hours of harvest so we deliver based on our ability to get the best product we can to our customers.
What's the Mission of Amorette Farms?
Our mission at Amorette Farms is to provide clean, fresh, local produce for our customers. By using only non-GMO seeds, and without the use of chemical herbicides or pesticides, we strive to provide a safe, healthy product available year-round.
Amorette Farms strives to grow and provide safe, superior quality, fresh, locally grown produce to consumers in the surrounding area.
We intend to establish a reputation in the area as the producer of the highest quality produce available.
Our Vision is to immerse ourselves into the surrounding community, becoming advocates for sustainable agriculture, healthy living, and community development. Our brand is built around transparency and establishing a connection between the grower and the consumer.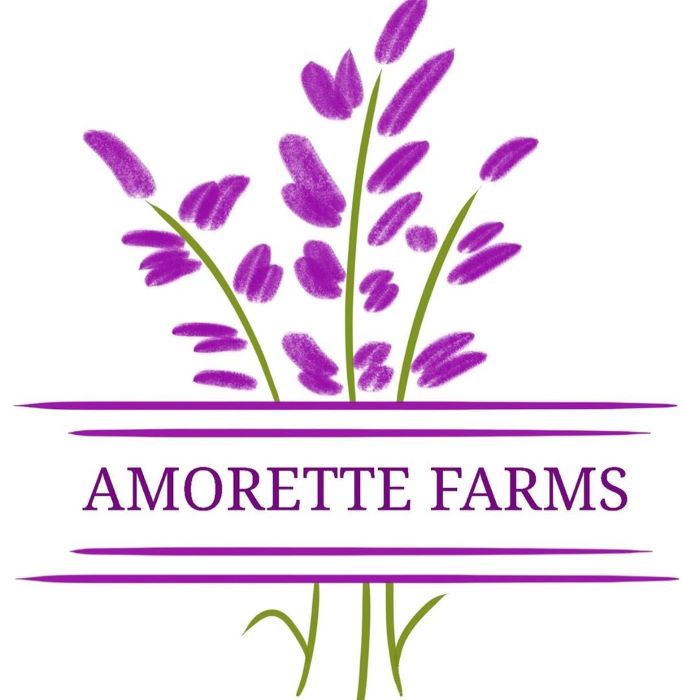 Sadly, a lot of smaller farms and ones that started just recently are struggling to survive due to the huge drop in sales this spring.
Based on your experience, what would you suggest farms in a similar position think about?
Well I myself am a new business having been in operation since summer of 2019. I was in a unique circumstance where I had reached my growing capacity and needed a larger space.
So, during this time, we have temporarily stopped taking orders while we build our expansion. This expansion will allow us to grow lettuce and leafy greens in addition to a larger number of microgreens.
This time can be used for a lot of things, to work on a skill or modify how you sell and deliver your product (private orders for home delivery is an excellent option, sort of like a subscription service).
We always tell our customers about this healthy product we all grow in microgreens, and how it's important to take care of yourself physically and mentally. I think that's the best advice I could give to new growers.
Take care of yourself physically and emotionally during this strange time we are all in, so when it's time to get back up and running, you can be healthy and ready to go.
Visit Amorette Farms Facebook Page at https://www.facebook.com/amorettefarms1/
Amorette Farms's Instagram page
2 Responses to "Devyn Rothbrust Sharing The Inspiring Story of Amorette Farms: A Vertical Farm Based in Beloit, Ohio"